Our story begins in 1937 when seven teachers in Pinellas County were denied a loan from a bank.
The teachers banded together to form a financial institution of their own – a credit union – with just $99.25 and an office at St. Petersburg Junior College. Unlike a bank, credit unions are not-for-profit and owned by the members they serve, so the institution was appropriately named the Pinellas County Teachers Credit Union in 1950.
Eventually, membership grew far beyond teachers, so the name was changed to Achieva Credit Union to reflect how its members come from all walks of life. Achieva developed a full suite of services, too, including mortgages, credit cards, auto loans, financial planning and business banking and lending solutions.
Today, Achieva serves more than 160,000 members with 26 branches throughout 15 counties in west-central Florida. Our membership is always growing, and we'd like you to be part of our story.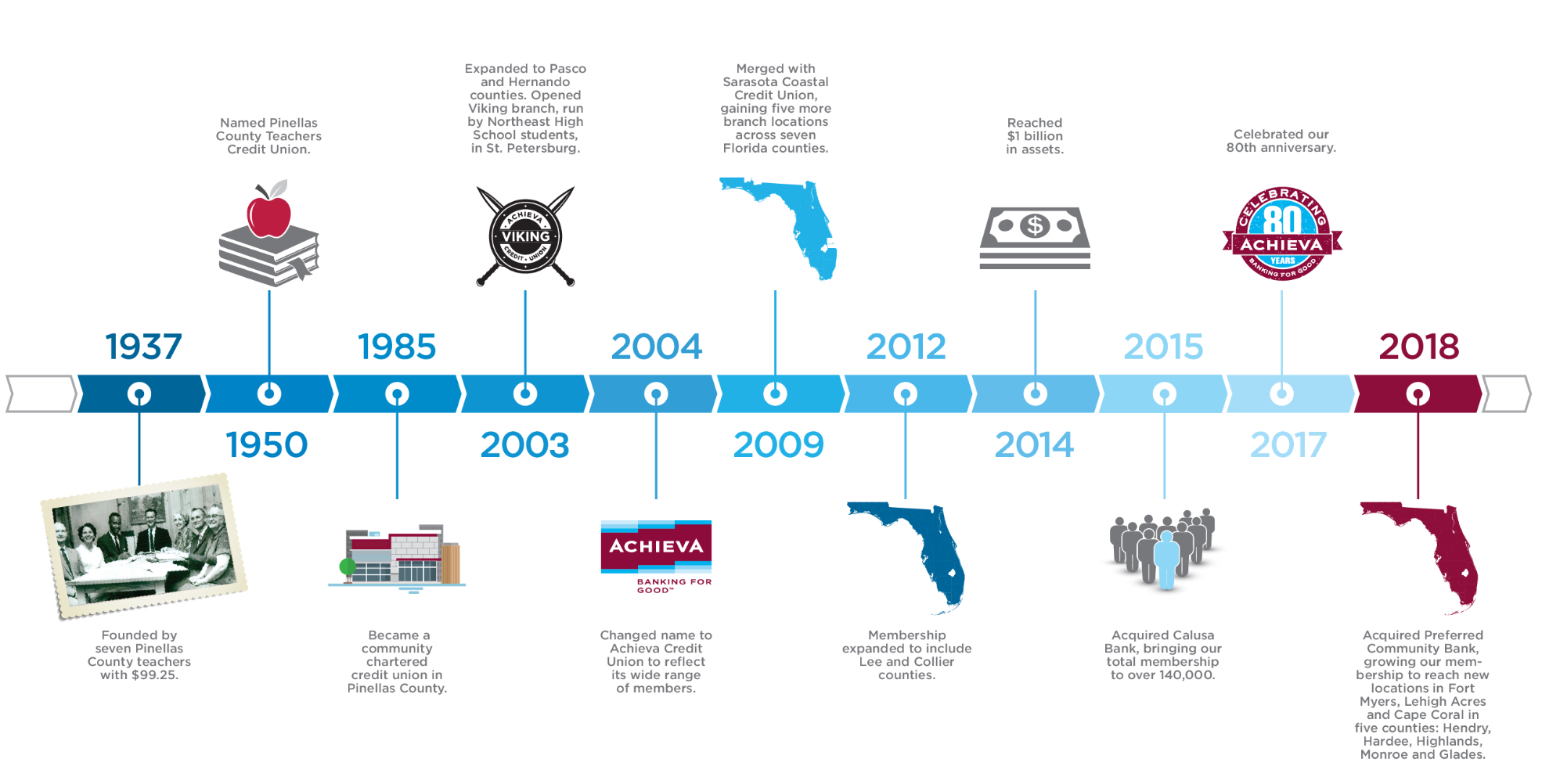 Our stats
$1.72 billion in assets, $1.30 billion in loans and $1.51 billion in deposits
160,000 members and counting
26 branches throughout 15 counties: Charlotte, Collier, DeSoto, Glades, Hardee, Hendry, Hernando, Highlands, Hillsborough, Lee, Manatee, Monroe, Pasco, Pinellas and Sarasota
400+ employees who deliver GOOD service: The proof is in our 83 percent customer satisfaction rate (based on a customer experience survey).*
$405,000 in classroom grants to local schools.
(*Source: Achieva Credit Union annual report)
Board of directors
Our Board of Directors is made up of Achieva members, all unpaid volunteers who look out for the best interests of their fellow members.
T.D. Hawkins, Chairman
Linda Emanuel, Vice Chairperson
Janet Cantees, Secretary/Treasurer
Jack Berthy
Rohland Bryant
James Dawson
Tom Oberhofer
Everett Silvernail
Bill Williamson II